Our Group is the sole agent and distributor in Macau, Hong Kong and Mainland China for reputable French wines including Brandy series of Louis XV X.O, Bonaparte X.O and Dragon d'Or X.O Brandy which are distributed in areas such as Shanghai, Guangdong, Liaoning, Yunnan and Zhejiang. Among them, the century old Brillet Cognac (Brillet Centenaire), brewed out of superb quality grapes for a hundred years, are favourites of collectors. Only 88 bottles of are assigned for sale in the Macao, Hong Kong and mainland China areas.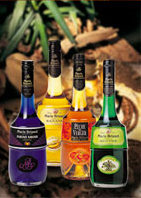 Our company is also the agent for branded red and white wines from Bordeaux. To name a few, the well known world class Mouton Rothschild listed on the Gironde for Class One wineries in the world. Other much sought-after brands include the Old Vienna Icewine from Austria and Marie Brizard Liqueur from France.
The Wuliangye, one of the top ten Chinese wines, is brewed out of sorghum, glutinuous rice, rice, wheat and maize. Since 2000, we are the sole agent in Macau.

COMPANIES
MACAU
YESLAND TRADING COMPANY
CHINA
SHANGHAI CHAIO KUANG WINE & SPIRIT TRADING LTD.